The winds whipped and howled.
The fierce rain bore down.
It was a scary few days
here in Okinawa-Town!
Now the time has come
for creepy goblins & beasts
to wander the lands
"boo!"-ing & begging for treats!
(Is is just me or does Halloween seem to encourage rhyming? Ok - just me...)
This recipe (though renamed from "Halloween" to "Fall") comes from
Martha Stewart
. I get a lot of daily recipe ideas delivered to my inbox and don't ever have enough time to check them all out and/or try them out. This time, I couldn't say no. I didn't grow up with "blondies" (other than Momma!) so I thought it'd be fun to try my hand at them and see if I like them as an adult. The verdict? Heck yes, I do!
Ingredients:
1 C (2 sticks) unsalted butter, melted, plus more, room temperature, for pan
1 C packed light brown sugar
1/2 C granulated sugar
2 large eggs
1 1/2 tsp pure vanilla extract
2 C all-purpose flour (spooned and leveled)
1 1/2 tsp coarse salt
1/4 C each orange, yellow, and brown candy-coated chocolates (from a 12.6 oz bag)*
*I used autumn-colored M&Ms for this, but would really love to make these a few times with different "themes" - alma mater (Hokie, Hokie, Hokie Hi! Tech, Tech, VPI!), sports team, or holiday (how cute would this be on Valentine's Day?). You could also experiment with the M&Ms, making different shapes/designs. Or change up the candy itself and try Reese's Pieces! Either way, this recipe is sure not to disappoint (and is little goblin helping hands friendly).
Directions:
Preheat oven to 350 degrees.
Brush an 8"-square baking pan with butter; line pan with parchment paper, leaving a 2" overhang on two sides. Butter paper.






In a large bowl, whisk together butter and sugars until smooth. Whisk in eggs and vanilla. Add flour and salt; stir just until moistened.






Transfer batter to prepared pan and smooth top.
Bake until top of cake is golden brown and a toothpick inserted in center comes out clean, 45 to 50 minutes. (*I set the timer for 45 minutes and think 38-40 would have been perfect.)
Set the pan on a wire rack and let cool completely.
Using parchment overhang, lift cake from pan and transfer to a cutting board; cut into 16 squares.
(To store, keep in an airtight container at room temperature, up to 2 days.)
Et voila!
Shared here: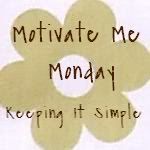 Mouthwatering Mondays at A Southern Fairytale