The first time I tried butternut squash soup was, sadly, as an adult. My husband and I enjoyed a date night at
Evo Bistro
in Tyson's. The bistro offers a "try-before-you-buy" approach to wine. You can purchase an Evo Card and use it like a debit card at the machines that pour you a 1, 3, or 5-oz. "pour." Now, while we're not wine connoisseurs by
any
means, we do love challenging our wine knowledge and our palettes. But when we left the restaurant, we weren't talking about the wine. We were raving about the soup du jour: butternut squash!
Served chilled and with a lovely swirl of cream in the center, this soup is an absolute crowd-pleaser. The beautiful color really resonates with this time of year and the earthiness of it just warms you.
(I served mine pipping hot, but wouldn't mind trying it chilled. This is another great recipe from
SkinnyTaste
.)
Ingredients:
1 butternut squash, about 2 C cubed
1 carrot, peeled
1 small onion, chopped
1 celery rib, chopped
6 C fat free vegetable broth
2 garlic cloves, halved
4 sage leaves (*I didn't have any sage leaves so I substituted with bay leaves and had the same success.)
1/2 C 1% milk (*I use skim.)
salt and freshly ground black pepper
Directions:
Peel the squash and remove the seeds.
In a large heavy pot, combine squash, carrots, celery, onion, garlic, sage, and broth and bring to a boil.
Cover and simmer on low for about 40 minutes, until squash is tender.
Discard the sage and using an immersion blender, puree the soup.


Add milk and adjust the salt and pepper to taste and serve.
(Great topped with freshly grated Parmesan cheese.)
Et voila!
Shared here: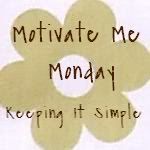 and
Mouthwatering Monday
at
A Southern Fairytale
.